4.25 star(s)
Rating: 4.25/5 4 Votes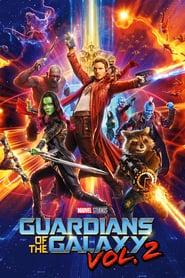 Title:
Guardians of the Galaxy Vol. 2 (2017)
Genre: Action, Adventure, Science Fiction
Director: James Gunn
Cast: Chris Pratt, Zoe Saldana, Dave Bautista, Vin Diesel, Bradley Cooper, Michael Rooker, Karen Gillan, Pom Klementieff, Elizabeth Debicki, Chris Sullivan, Sean Gunn, Sylvester Stallone, Kurt Russell, Wyatt Oleff, Aaron Schwartz, Laura Haddock, Gregg Henry, Seth Green, Molly C. Quinn, Evan Jones, Jimmy Urine, Stephen Blackehart, Steve Agee, Joe Fria, Terence Rosemore, Tommy Flanagan, Richard Christy, Michael Rosenbaum, Ving Rhames, Michelle Yeoh, Rob Zombie, Jim Gunn Sr., Leota Gunn, Ben Browder, Rhoda Griffis, Kelly Richardson, Elizabeth Ludlow, Cheyanna Lavon Zubas, Hilty Bowen, Alexander Klein, Sierra Love, Milynn Sarley, David Hasselhoff, Hannah Gottesman, Luke Cook, Blondy Baruti, Mac Wells, Kendra Carelli, Damita Jane Howard, Brian Clackley, Tahseen Ghauri, Josh Tipis, Jason Williams, Stephen Vining, Stan Lee, Donny Carrington, Fred, Jeff Goldblum, Alphonso A'Qen-Aten Jackson, Fred Galle, Nea Dune, Miley Cyrus, Guillermo Rodriguez
Release: 2017-04-25
Plot:
Set to the backdrop of 'Awesome Mixtape #2,' Marvel's Guardians of the Galaxy Vol. 2 continues the team's adventures as they traverse the outer reaches of the cosmos. The Guardians must fight to keep their newfound family together as they unravel the mysteries of Peter Quill's true parentage. Old foes become new allies and fan-favorite characters from the classic comics will come to our heroes' aid as the Marvel cinematic universe continues to expand.
Last edited by a moderator:
3
Reactions:
Daidraco, chthonic-anemos and Maxnome