Golden Baronet of the Realm
6,851
14,267


56d 5h 34m
4.00 star(s)
Rating: 4.00/5 1 Votes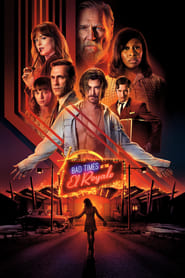 Title:
Bad Times at the El Royale (2018)
Tagline: All roads lead here
Genre: Thriller, Crime, Mystery, Drama
Director: Drew Goddard
Cast: Jeff Bridges, Cynthia Erivo, Dakota Johnson, Jon Hamm, Chris Hemsworth, Cailee Spaeny, Lewis Pullman, Nick Offerman, Xavier Dolan, Shea Whigham, Mark O'Brien, Charles Halford, Jim O'Heir, Gerry Nairn, Alvina August, London Morrison, Bethany Brown, Rebecca Toolan, Hannah Zirke, Billy Wickman, Charlotte Mosby, William B. Davis, Manny Jacinto, Tally Rodin, Sophia Lauchlin Hirt, Jonathan Whitesell, Synto D. Misati, Austin Abell, Katharine Isabelle, Sarah Smyth
Release: 2018-10-04
Runtime: 142
Plot:
Lake Tahoe, 1969. Seven strangers, each one with a secret to bury, meet at El Royale, a decadent motel with a dark past. In the course of a fateful night, everyone will have one last shot at redemption.
1
Reactions:
chthonic-anemos