4,801
1,943


16d 14h 16m
3.20 star(s)
Rating: 3.20/5 5 Votes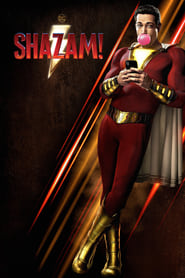 Title:
Shazam! (2019)
Genre: Action, Adventure, Fantasy, Science Fiction
Director: David F. Sandberg
Cast: Zachary Levi, Asher Angel, Mark Strong, Djimon Hounsou, Jack Dylan Grazer, Grace Fulton, Faithe Herman, Ian Chen, Jovan Armand, Cooper Andrews, Marta Milans, Adam Brody, Michelle Borth, Meagan Good, Ross Butler, D.J. Cotrona, Ava Preston, David J. MacNeil, Carson MacCormac, Caroline Palmer, Lotta Losten, Andi Osho, Ethan Pugiotto, David Kohlsmith, Natalia Safran, Lou Lou Safran, Manuel Rodriguez-Saenz, Ali Badshah, Simon Northwood, Lovina Yavari, Jim Pagiamtzis, Emily Nixon, Raul Torres, Jhaleil Swaby, Jackson Reid, Bryce Arden Poe, Tosh Robertson, Pearl Ho, Cassandra Ebner, Angelica Lisk-Hann, Jesse Bond
Release: 2019-04-05
Plot:
We all have a superhero inside us, it just takes a bit of magic to bring it out. In Billy Batson's case, by shouting out one word--SHAZAM!--this streetwise 14-year-old foster kid can turn into the adult superhero Shazam, courtesy of an ancient wizard.Still a kid at heart--inside a ripped, godlike body--Shazam revels in this adult version of himself by doing what any teen would do with superpowers: have fun with them! Can he fly? Does he have X-ray vision? Can he shoot lightning out of his hands? Can he skip his social studies test? Shazam sets out to test the limits of his abilities with the joyful recklessness of a child. But he'll need to master these powers quickly in order to fight the deadly forces of evil controlled by Doctor Thaddeus Sivana.
1
Reactions:
chthonic-anemos